After receiving the marksheet and provisional certificate, what will be your next step? IGNOU 37th convocation, right?
The university organizes a annual function ceremony every year, where many students attend.
The important feature of the conference is that they provide gold medals and certificates to deserving students.
I know you have lots of queries regarding this, so we have mentioned some of them.
What is IGNOU convocation?
Can I be a gold medalist student?
How to get an IGNOU degree certificate
What is IGNOU 37th convocation?
It is a ceremony organized by the University to provide degrees certificates to its students who have completed their programs.
During the IGNOU 37th convocation 2024, students are invited to attend the ceremony, usually held at a designated venue.
The university authorities host the event, including the Vice-Chancellor and other chief guest.
It's a proud moment and symbolizes their successful completion of university.
If you attend the function, you will get a chance to meet your colleague and gold medalist students.
What is an IGNOU degree certificate?
It is an important document issued by the university at the time of convocation. After completing the course, university provides every year.
Anyone who successfully completed the course is eligible to get it.
IGNOU issues the original document and bears the university's official seal and vice chancellor signature, which are not available on provisional certificate.
Here is an IGNOU Degree certificate sample copy. I am sure I will surprise you to see the sample image.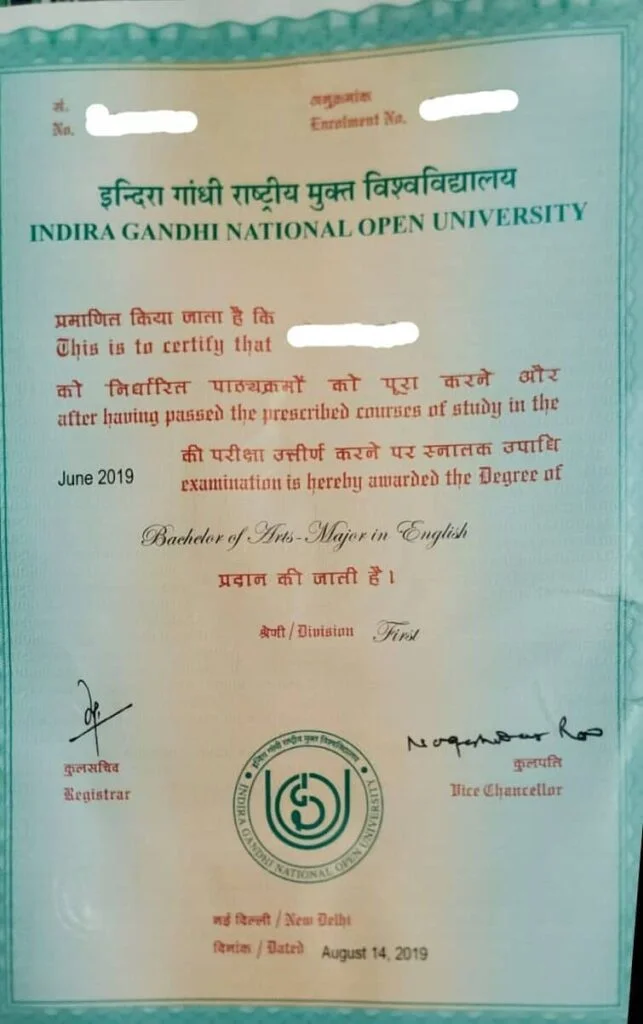 How to get an original degree certificate from IGNOU.
University has uploaded an information on the official page for the 37th annual programmes.
Anyone who completes the course in the December 2022 and June 2023 sessions can apply online for the IGNOU 37th convocation certificate online.
To get an original degree from IGNOU, follow the below steps:
Open the official website
click on 37th convocation degree Diploma under register online link
Check the declaration box and hit the "I agree and proceed" button.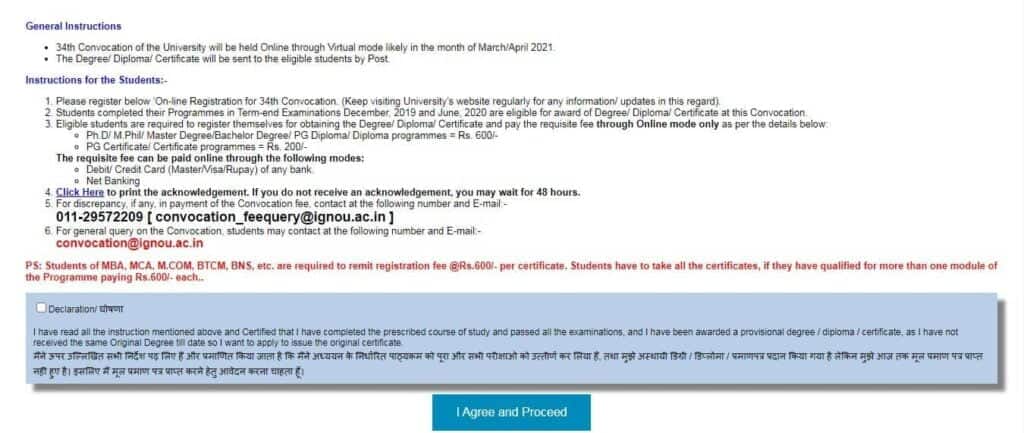 Click on the new student registration.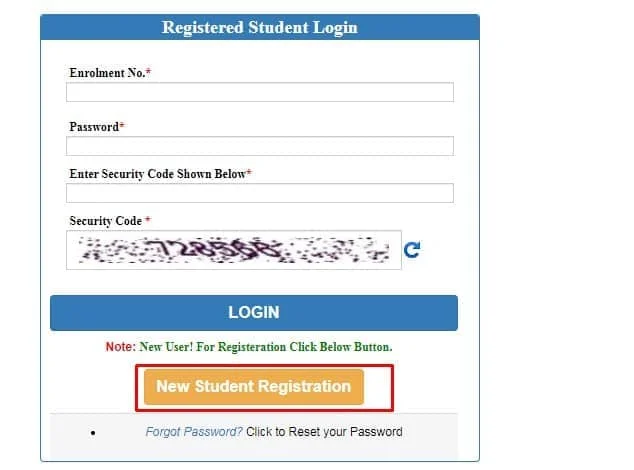 Enter enrollment no and click on verify student details; you will see the following page once you confirm.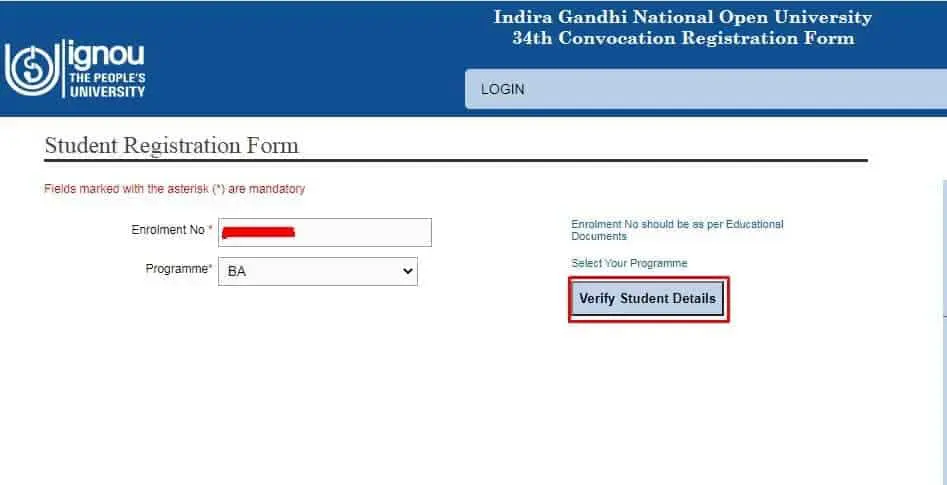 Enter email id and mobile no and create a password to register the account.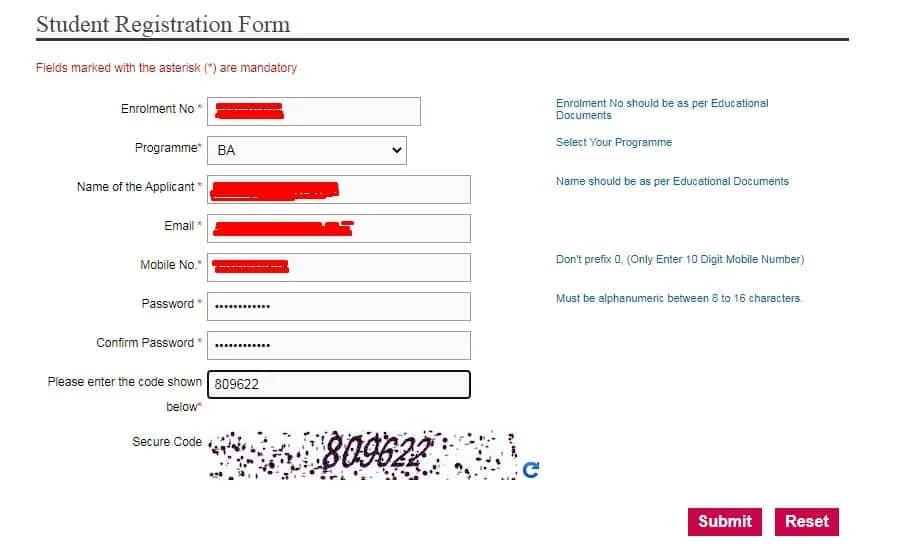 Here, you will see the successful message.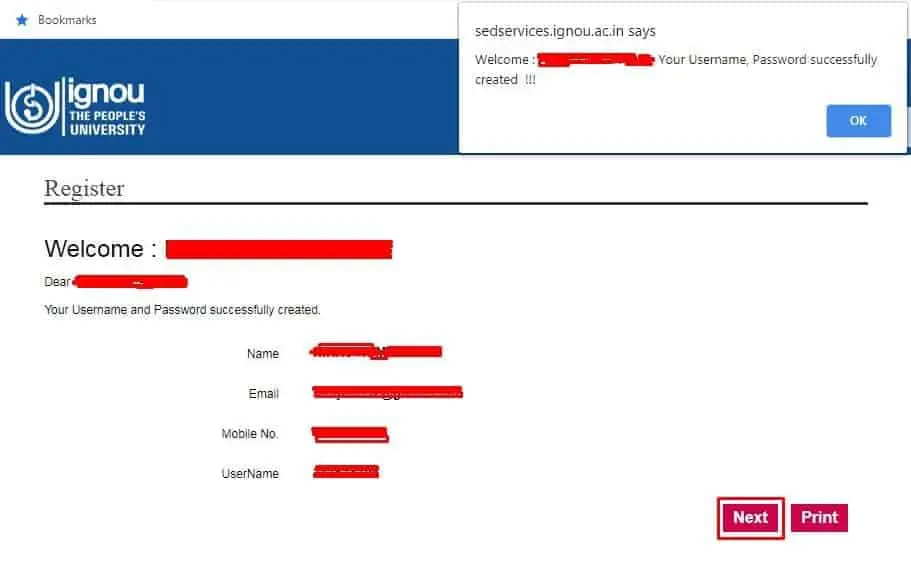 Click on next.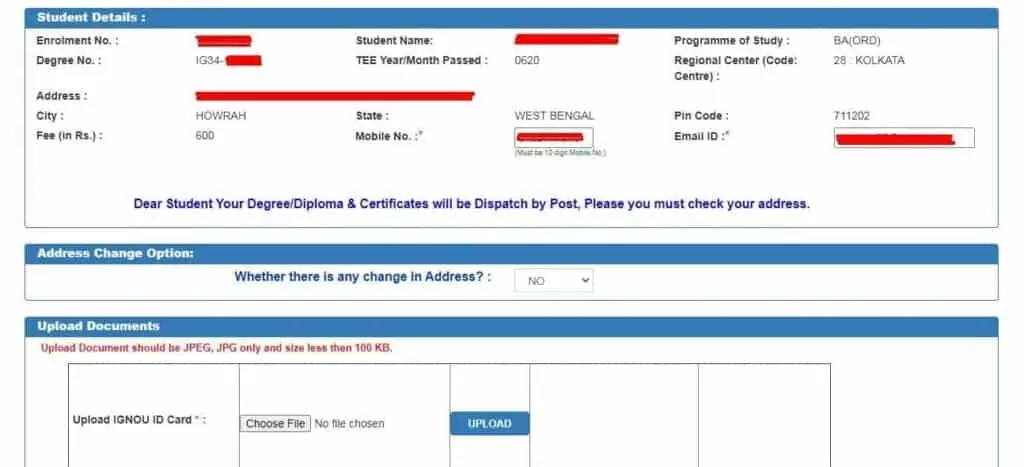 Check the details. For receiving the document at other places, select yes.
Upload a scanned copy of the ID card.
Verify the details and complete the payment process.
Once the payment is successful, a successful payment receipt will generate. 
Information about IGNOU 37th convocation
To get a degree certificate from Indira Gandhi National Open University, you can follow the steps below:
Eligibility. University usually conducts once a year for students who have completed their programs in the preceding year.
So, you should have completed your program in the previous year to be eligible.
Application: Once the notification is released, visit the official link and fill in all the required details.
Fee Payment: There is usually a fee that needs to be paid. Payment details will be specified in the notification/application form.
Document Submission: You need to upload the following documents:
IGNOU ID card
Grade Card / Provisional certificate
Ensure you have all the required documents ready and submit them along with your application.
Application Submission: After completing the application form and gathering all the documents, submit them as per the instructions provided.
Follow-up: It is important to check the official website regularly and keep oneself updated with the announcements and instructions related to IGNOU 37th convocation..
Stay connected with the official website.
Attend annual function: Once your application is processed and accepted, the university will provide you with further instructions regarding the annual ceremony.
Attend the function on the specified date and time. During the ceremony, you will receive your certificate.
Note: Students who have not paid for the previous year can apply for a degree certificate form in the regional office with a demand draft of Rs 600.
IGNOU 37th convocation date
Students are waiting for the invitation letter but not getting accurate information; on the official website.
The university has not declared the 37th convocation date on the official website. But it will be likely to be held on January/February, 2024.
My recent experience with IGNOU convocation 2023
Last year, one of my friends called me for the degree certificate. He completed his graduation in July 2022 session and missed the IGNOU convocation 2023 online. So he did not receive.
I advised him to visit the RC with a DD of Rs.600 along with the relevant documents, and he did so. 
After visiting the regional office, he got the application form. An official of the regional centre told him to submit the form.
Within15 days, he got the IGNOU original graduation certificate.
IGNOU Gold Medalists students list 2023
Do you know who the previous year toppers are? And want to know their score.
IGNOU 36th convocation Gold Medalists students list for Bachelor Degree
| | | | |
| --- | --- | --- | --- |
| Course | Name | Passing year | percentage |
| BA | TRIVEDI MRUGA | December 2021 | 80.22 |
| BBARL | HARSHITA SINGH | June 2022 | 83 |
| BCA | NAMIT ARORA | June 2022 | 80.96 |
| BCOMG | ANJANA ASHOKAN | June 2022 | 75.46 |
| BED | CHITRASENA BEHERA | December 2021 | 4.95 |
| BHM | CHIRAG KUNDRA | June 2022 | 89.8 |
| BLIS | HARSHITA SHAH | December 2021 | 81 |
| BSCG | SHINSY SHAMSUDHEEN | June 2022 | 80.34 |
| BSW | JOSE C P | December 2021 | 75.02 |
| BTS | D GOWRI | December 2021 | 72.22 |
IGNOU Gold Medalists students list for Master Degree
| | | | |
| --- | --- | --- | --- |
| Course | Name | Passing year | percentage |
| MADVS | SHRIYA | JUNE 2022 | 79 |
| MAEDU | R PRATIMA ZINGADE | JUNE 2022 | 5 |
| MAGPS | ASWIN S | DECEMBER 21 | 80 |
| MAH | KM SHIVANGEE | JUNE 2022 | 77 |
| MAPC | DIKSHA SHARMA | DECEMBER 21 | 87.38 |
| MAPY | LOVELY SARKAR | JUNE 2022 | 75 |
| MARD | HUMAIRAH JAN | JUNE 2022 | 4.85 |
| MBA | MADHUMITHA  MAHESWARI S | DECEMBER 21 | 78.73 |
| MCA | DEEPAK GARG | DECEMBER 21 | 75.07 |
| MCOM | SHYNA MALIK | JUNE 2022 | 77 |
| MEC | SINI SABU | JUNE 2022 | 80 |
| MEG | VINDHYA KAWATRA | JUNE 2022 | 79.08 |
| MHA | ANKIT BARAL | JUNE 2022 | 83.46 |
| MHD | RAKESH KUMAR SHARMA | JUNE 2022 | 80.13 |
| MPA | VISHNU SHARMA | JUNE 2022 | 79 |
| MPS | PRIYANKA | JUNE 2022 | 79.39 |
| MLIS | DHARAVATH SURENDAR | DECEMBER 21 | 71.38 |
| MSK | MANORANJAN KUMAR PANDEY | JUNE 2022 | 78 |
| MSO | ANIKET YADAV | DECEMBER 21 | 79.08 |
| MSW | ASHOK KUMAR | JUNE 2022 | 80.42 |
| MSWC | ATHIRA SATHEESH | JUNE 2022 | 72.41 |
| MTTM | ABHIRUPA ROY | DECEMBER 21 | 93 |
IGNOU Gold Medal criteria
To become eligible for the award of Gold Medal in IGNOU 37th convocation, you need to meet the following criteria:
You need to complete the course within minimum duration.
Earn highest aggregate marks in the course.
Don't repeat any of the subject in the course.
Don't get punished under cheating or mass copying (unfair means).
Secured an at least of first division marks.
If two or more students secure identical scores based on approved methodology for arriving at the highest point average in a programme, all the students in such tie-up cases shall be awarded Gold Medal.
There should be a minimum of 10 qualified and eligible students in a course to make it competitive for consideration to award a gold medal.
As a bachelor's or master's student, score higher in all assignments, practicals, and term-end exams all over India.
Complete the course within the duration to qualify for IGNOU gold medalist s students.
I have researched bachelor gold medalists students. If assignment marks score greater than 85 and term-end theory above 80 in each paper, you may qualify in the IGNOU convocation 2024 for the gold medal category.
IGNOU 37th Convocation 2024 dress code
Previous year's 36th convocation dress for girl candidates was White or Off white or cream colour Indian Dress, Sari or Salwar Kurta or Salwar KAMEEJ, etc., preferably made of handloom/khadi. 
Previously Dress for boys candidate was White/Off white, or cream coloured Bharatiya PARIDHAN (Indian Dress) preferably made of handloom/khadi.
What is the cost of getting a degree certificate?
IGNOU Charges a prescribed fee for obtaining the original certificate for the 37th online convocation.
The prescribed fee is Rs. 600/-. For Bachelor's, Master's, and PG courses, 200 RS for a certificate program.
My enrollment number is not showing while registering on the portal.
The applicant who completed in December 2022 and June 2023 examinations can apply.
After paying the fee, I have not received the payment slip; what should I do?
You can visit the official link. If not received, check after 48 hours.
Conclusion
I have learned many things about IGNOU University and faced many challenges. Last semester, I guided over 3000+ students after the IGNOU convocation 2023, and they were unaware of the original degree certificate.
Drop your query in the comment section if you need help with IGNOU 37th convocation or original certificate.