I know your admission has been confirmed and you are looking for how to download IGNOU ID card . Everyone knows It is an important document, it contains the student's name, enrollment number, photograph, and other details.
It's help you in the following category:
Attend the exam, Accessing study material, and other university function.
After confirming the admission status, the university provides the IGNOU ID card download option.
This guide will show you exactly how to get it within 5 minutes, whether you lost your document or want a new one.
How to download IGNOU ID card for fresh candidate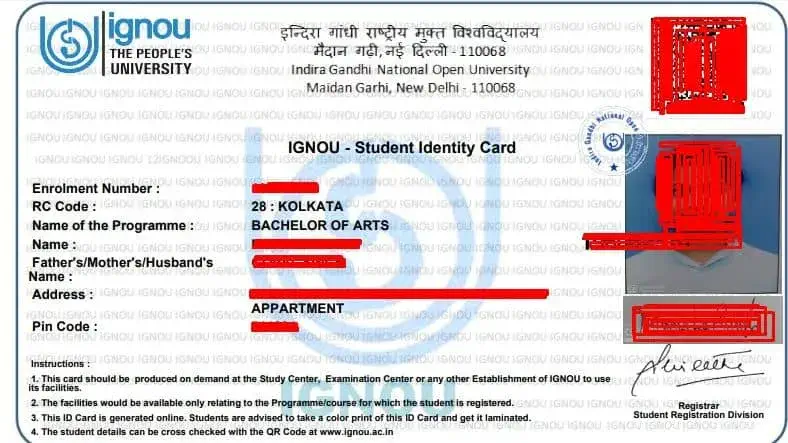 Every year University provides online admission for various courses, after getting the successful confirmation email you can easily download id proof.
The new Samarth login portal is the best place to download IGNOU ID card.
So without wasting time let's move to the step by step process.
Open the official panel.
Type your username and password.
Enter the captcha verification code
Click on the login button to access the dashboard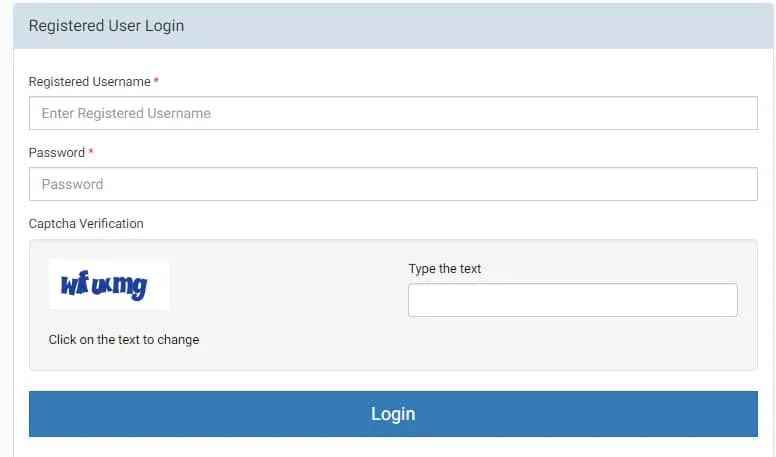 Click on "my application." Once you've gone through the portal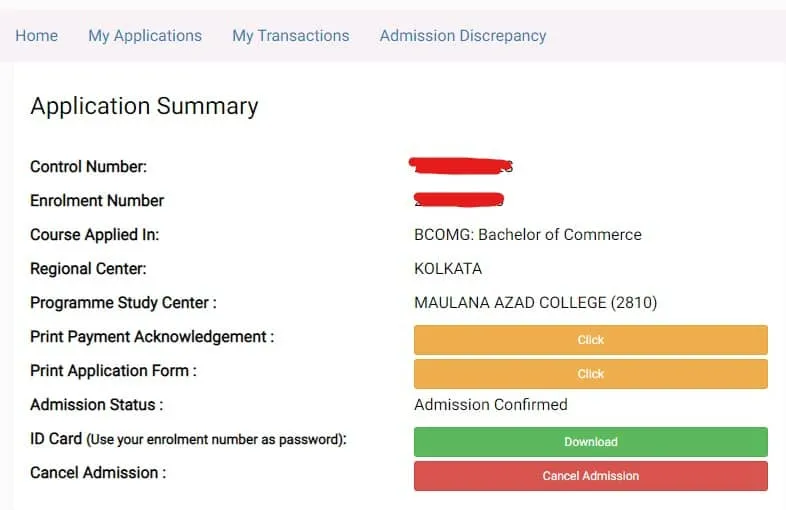 Copy the above enrollment number.
Click on the download button
A pop-up window will open and ask for the password you need to paste your enrollment number.
You don't need to go to the regional office for taking stamp on it, because online IGNOU student ID card 2023 has a digital signature.
Download IGNOU ID card with enrollment number
I have good news for you?
Do you know you can get with the help of enrollment no?
Just follow the below steps
Open the re registration dashboard
For the fresh learner, click "New Registration."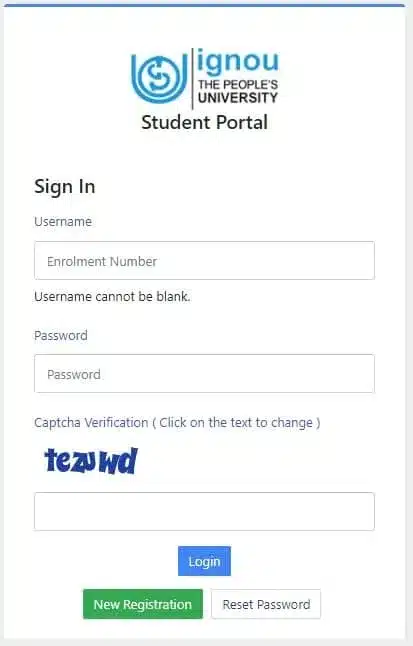 Select Programme
Enter your full name
Type your enrollment number
Click on the box and enter the captcha code.
Hit the "submit." option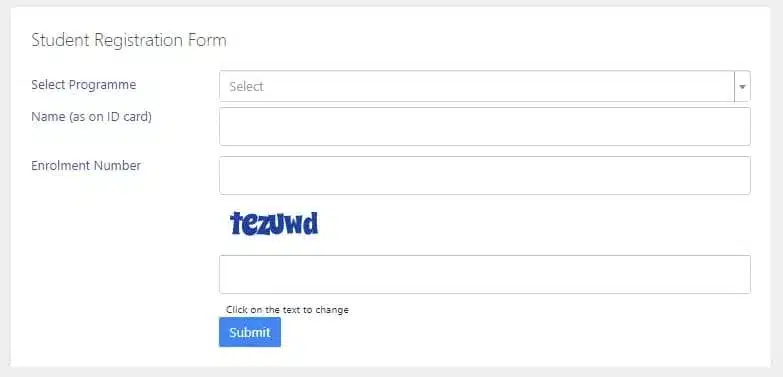 Open your email and paste the OTP.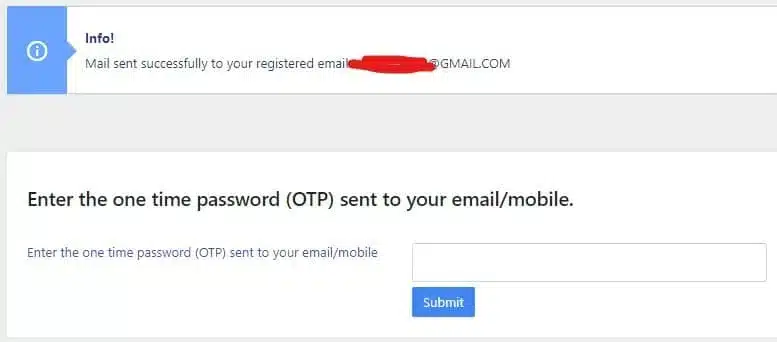 Create a password for the account.
Use your credential (enrollment number) to log in again
Select "Services" from the left menu.

Go to the bottom of the page and click on the ID-card box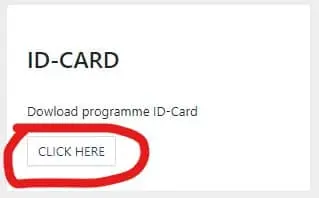 Now click the download ID card button.

Enter your enrollment number to open the documents.
This is one of the easiest method because most of the students forget their user id and password after taking the online admission.
Session wise link
Note: The IGNOU ID card download link before the January 2020 session is not working anymore for the last few months. 
For the old candidate before January 2020, you must go to the regional office.
How to reset student Portal password
Most of the time I have seen student forget their login credential, forgetting your student portal password can happen for various reasons.
Here are some common reasons:
Infrequent Login
Complex Passwords
Change in Contact details
Inactive Email ID
Check the below steps to reset your credentials.
Open the Samarth login portal
Click on the reset password button
Select Programme code from the drop-down menu
Enter Enrollment no and hit the submit link
Enter the OTP received to your email/mobile
Click on submit
Now you can create your new password.
Advantages
Do you know Indira Gandhi National Open University has become digital in the last 5 years?
For example, you can now get into school online, find study materials online, and get e-documents that are digitally signed.
Here are the advantages:
You don't have to visit the study center to get it.
Stamp from the regional office is not required.
If you misplace your Identity document, you can download a new one from the IGNOU student portal.
A password is required to open it.
Password
One of my students asked me this question last year, password for your IGNOU ID card is your enrollment number, which you have already received from university.
To open it require the valid enrolment number.
New digitally signed I-cards have been given out by the university is a password protected.
How to get duplicate ID card
If you are a new learner, you can get it again from the samarth portal.
For old student before January 2020, you could ask the regional centre for a new one. Go to the RC office with the following documents or call helpline number
Take a GD copy and a demand draft to the regional office.  
An application for duplicate ID Card
Passport size, recent colour photograph
Any ID Proof in original with one self-attested photocopy
Collect the application form.
Fill in your name, address, and enrollment number.
Paste the color photo on the form and submit it to the regional office to be checked.
You will get your documents within an hour.
Check here the IGRAM reply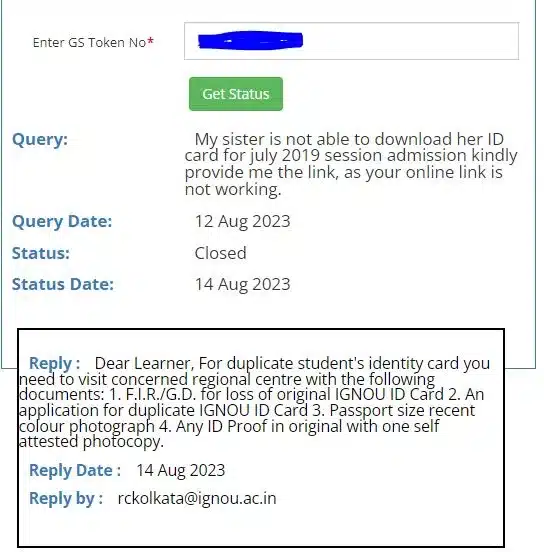 My Case Study
I received an email.
After my application was confirmed for the July 2022 session, I failed to save my login details so how can I get new downloading link for IGNOU ID card ?
My reply-You can get it by resetting the username and password.
I helped him reset his login details and gave him the login portal.
Question-I forgot to print my online identity card, but I have a soft copy. Can I still turn in my assignment?
Answer-You need a copy of the ID card you printed out.
Question-I am an old student want to login with enrollment no it is possible?
Yes, IGNOU login with enrollment no is possible for every registered learner, you can easily signup on student profile.
Question-Can I get an IGNOU enrollment number by name?
No, you cannot get your enrolment number by name because these numbers are not publicly available information and are typically provided to students upon confirmation of their admission.
Conclusion
We have already discussed the steps to download IGNOU ID card 2023. If you have any questions about it, please let me know in the comments section.