IGNOU assignment status 2023 or earlier not showing can delay receiving marksheet?
No Worries!
In this article i will guide you why IGNOU assignment status is not updated and how to get marks.
First, Check here the proof that these tips are working:-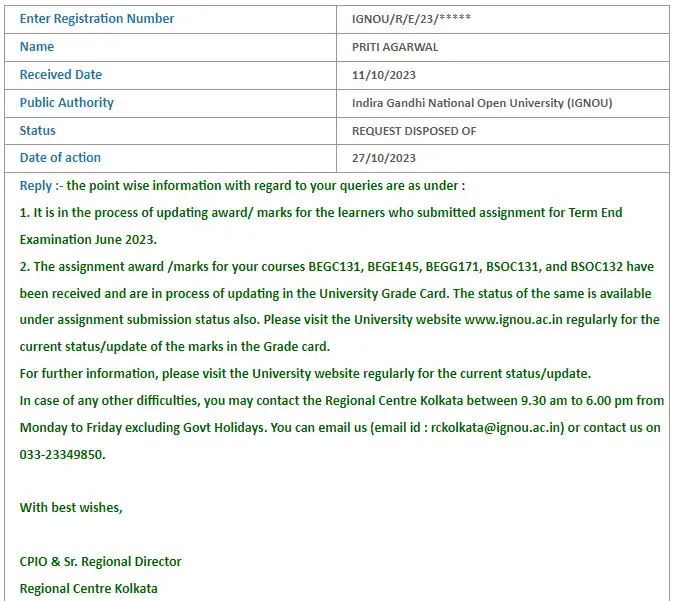 Now, let me tell you the easy method that you must follow in order to receive IGNOU assignment marks.
How to check IGNOU assignment status 2023 June session
I know you must be worried about "How can I check my assignment submission status in IGNOU? So we have mention the steps below.
Visit the assignment portal
Enter your 9-10 digit enrollment number and select your program from the dropdown menu.
Click the "Submit" button.
You will see your all IGNOU assignment submission status list on the screen
You can view the details like the course code, submission date, and status.
Note: You should regularly check the details on student portal, as the evaluation process may take some time to complete.
University uses the following term while checking online marks
Received to be processed
The university will process it shortly.
Received and in-Process
It represent the study centre has received, and it is currently being reviewed and evaluated by the teacher.
Check Grade Card Status for detail
They verified your score successfully and updated on the grade card.
How to check Assignment Marks 2023
You can easily check your IGNOU assignment marks by the following method.
Open grade card portal
Select program type
Enter enrollment number and Programme Code
Click on search

Top 5 reasons IGNOU assignment status not updated?
Whenever students visit the college, most of the time study centre gives false promise "we will update your IGNOU assignment marks within a month" but they don't do. And they don't provide the exact date.
The problem you are facing in 2023 I have already faced this, when I was doing my course from IGNOU university.
Do you know why this happens every year?
From my personal experience, I have created a list of difficulties that students face every year.
Now comes to the main question:
Let's check why the IGNOU assignment status is not showing on the grade card portal.
Front page
Without attaching the front page, it looks incomplete.
You can check my article here about attaching the first page and the acknowledgment slip.
Incorrect details
Ensure you have provided the correct enrolment number and course code on the front page. Else they will not consider your project.
Wrong question paper
Sometimes, students get confused in the session and submit the wrong question paper. So their marks don't get updated at the right time.
Study centre permanently closed
Most of the time, we find that the study center is not working anymore, so the regional office allotted a new college, but you submitted your assignment to the old study centre, so the process takes some time.
Delay in evaluation
University assigns tutors to evaluate IGNOU assignment marks. Because of the large number of students, it may take some time for your tutor to evaluate your paper and update your status.
Once you have confirmed that you have submitted correctly and followed all the guidelines but still, your IGNOU assignment status 2023 is not showing?
I know it's not your fault. It's the study centers that always work slowly. Either they didn't check your paper, or they didn't send marks to the regional office.
Evaluations of Assignments are being taken care by the Study Centre through their Counsellors. Further, it updated through multiple channels and it involves several Sections/Divisions of the University for updating score in the Grade Card.
To deal with it, there is another excellent option called RTI.
How to update IGNOU assignment result in 2023 easily, if it's not updated?
I know you must be thinking about, what to do if IGNOU assignment marks are not updated within a month, here is an option called RTI where you can get a positive reply within a month.
I helped thousands of students to update their result, and every time my success rate is 100%.
Check here my recent experience.
Recently, I got an email from a 3rd-year candidate. He has been waiting for the assignment status for the past six months. After finishing all the theory papers, he could not apply for the master's course.
Do you know why?
Because his marks were not updated on grade card. So He failed to apply because the last date of admission was over. Now he lost six months.
Then I recommend applying for the RTI application. After the application, he got the Marksheet within a month. This problem is weird and could also be with you, so be prepared to deal with it.
This tricks is working. I have been following this method for the past 10 years and getting 100% response. Thousands of students are also following our method to update their marks.
For example, you can check here the result how we got a reply.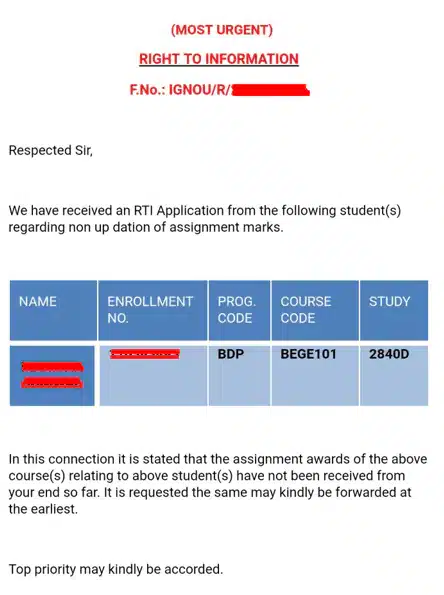 another RTI reply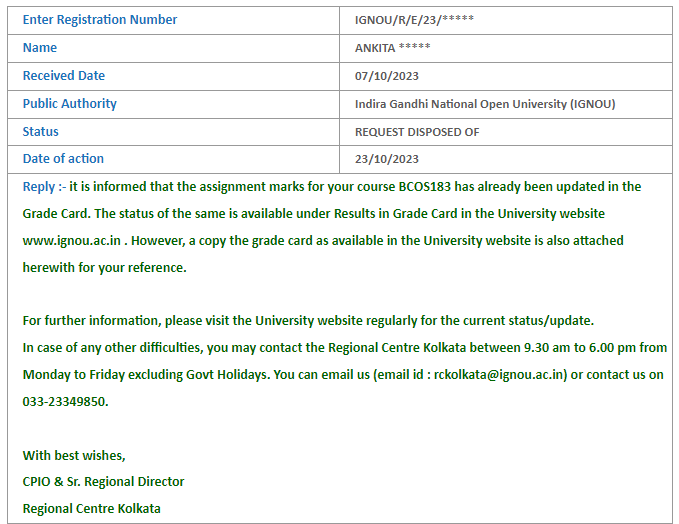 Feature of IGNOU grade card status
With the help of grade card tool, you can find the marks, which are updated or not. It offers a dashboard of various features, including assignments, practical projects, and many more.
Marks show in the grade card without 30% and 70% calculations.
When you complete all the remaining subjects, you'll receive a mark sheet and a provisional certificate by post within 45 days.
The minimum required passing marks for a bachelor's is 35, and a master's degree is 40.
FAQ
Conclusion
Indira Gandhi National Open University is one of the world's largest open and distance institutions owned by the Government of India.
Every year, we have to submit the TMA.
If you need help to update the IGNOU assignment status 2023 June or earlier session, share your experience with us in the below comment box, and we will try to solve your query ASAP.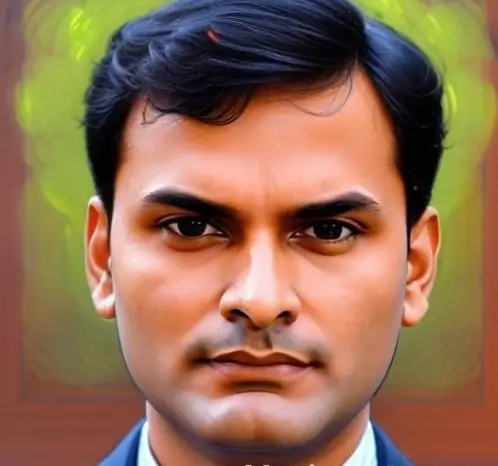 I'm Niraj Bari. I've been helping IGNOU students for over 13 years. I have completed my course from IGNOU University and faced so many challenges, and that's why I started this website—to help students who are having a tough time with distance education.