In this post, I will discuss IGNOU MBA admission v/s Regular MBA, with special reference to distance education.
You'll find a detailed comparison of these popular course here with live proof.
I'm going to compare the following in terms of:
Mode of Learning
Duration
Flexibility
Curriculum
Faculty
Fees
Placements
And many more
I have written this article for students who want a management degree. So if you are planning to apply IGNOU MBA admission in 2024 surely this post will helpful for you.
IGNOU MBA admission vs Regular course
The Indira Gandhi National Open University offers ODL programs, which differ from various universities regular courses. IGNOU MBA course is very popular in the distance education industry.
Do you know why? Let's check the reason.
Here we have mentioned the top 10 difference between regular and distance course.
Mode of Learning
The IGNOU MBA admission 2023 is an open learning Programme where no need to attend regular classes, while the regular is a full-time classroom-based.
Duration
We can complete correspondence MBA from IGNOU in a minimum of 2 years and a maximum of 4 years, whereas a regular program takes two years.
Flexibility
It offers flexibility in course completion timeline, study pace, and exam schedule, while regular have a more fixed schedule.
Curriculum
The IGNOU MBA distance education curriculum is more practical and industry-oriented, while the regular may be more theoretical.
Faculty
The faculty includes both full-time and part-time teachers, while regular Programme only have full-time professors.
Study Material
They provide study materials in soft copy and printed books, after confirming admission, while regular universities use textbooks and other printed materials.
Fee structure
IGNOU MBA fees per semester are lower than other because it is under a central government institution.
Placements
Open learning institutions do not guarantee job placements, but regular college offer better opportunities for placements and internships.
Reputation
Formal programs from top-ranked college have higher reputations than distance education, but you can't deny NAAC has granted Indira Gandhi National Open University A++.
Networking
Regular courses offer better networking opportunities through alumni associations and daily events, while distance education may not provide the same networking opportunities.
IGNOU university MBA Admission stats
According to an RTI report, in 2023, the number of IGNOU MBA Admission stood at 45851.
We have collected this data from January 2020 to January 2023: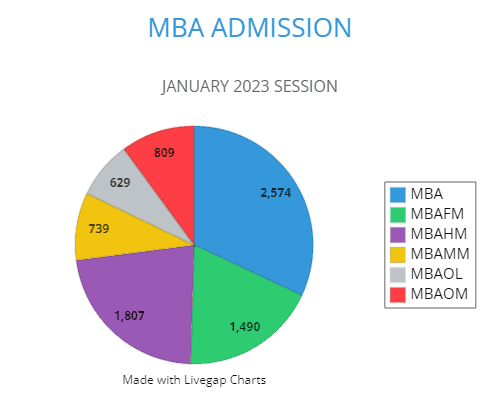 In the January 2023 session, the total enrollment is 206304, including management courses.
The current number of IGNOU MBA admissions 2023 is 8266 for the January session.
Check the session wise admission stats.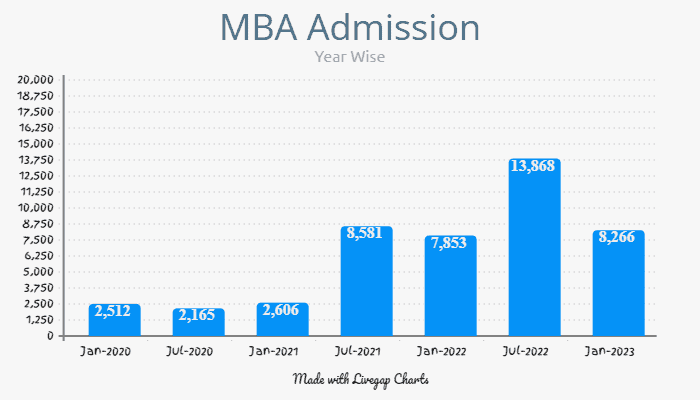 NOTE-Management programme was on offer till January 2021 as MBA, PG Diploma (specialization) course, now it is on offer from July 2021 as an independent.
Eligibility criteria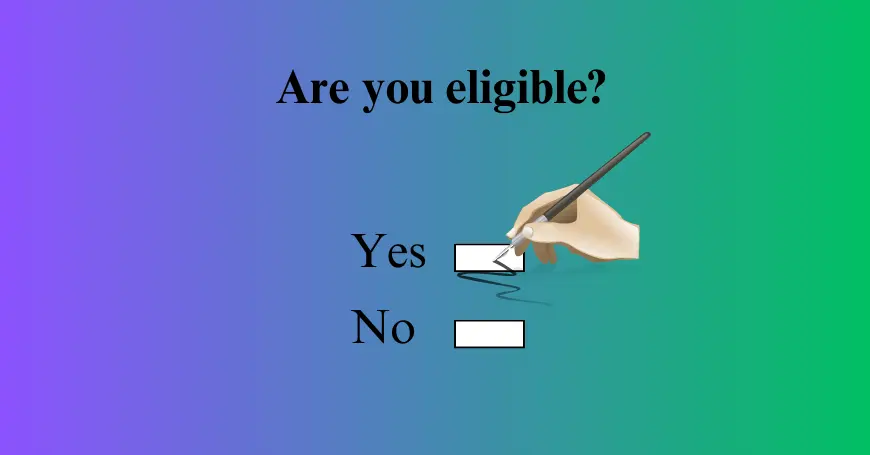 The minimum eligibility criteria for pursuing an MBA through IGNOU 2023 is a Bachelor's degree in any discipline from a recognized university with a minimum duration of three years.
Candidates who have graduated with a CA, Cost Accountant, BA, BCOM, BBA, or similar degree can get in.
No age bar
They must have at least a 50% score in Bachelor's degree.
Regarding the reserved category, which is 45%.
Latest Updates
University has published new admission notifications for the July session. IGNOU MBA admission 2023 last date is 20th October 2023.
Duration
Minimum: 2 Years
Maximum: 4 Years
IGNOU distance MBA review 2023-24
Master of Business Administration is a two-year program offered by the Indira Gandhi National Open University. The School of Management Studies runs the distance management program.
It's gives students a comprehensive understanding of various management and business administration aspects.
IGNOU distance MBA course is flexible and allows students to study at their own pace and at convenience. Their fees are a cost-effective option for everyone.
While a regular college provides more structured learning, better networking opportunities, and a higher reputation in the job market.
For the IGNOU MBA admission, you need a bachelor's degree with at least 50% marks. If you belong to the SC/ST category, you only need 45% marks. Upon completing the program, the university provides a certificate, recognized by the UGC and other regulatory bodies in India.
It is only available in English.
IGNOU MBA online admission process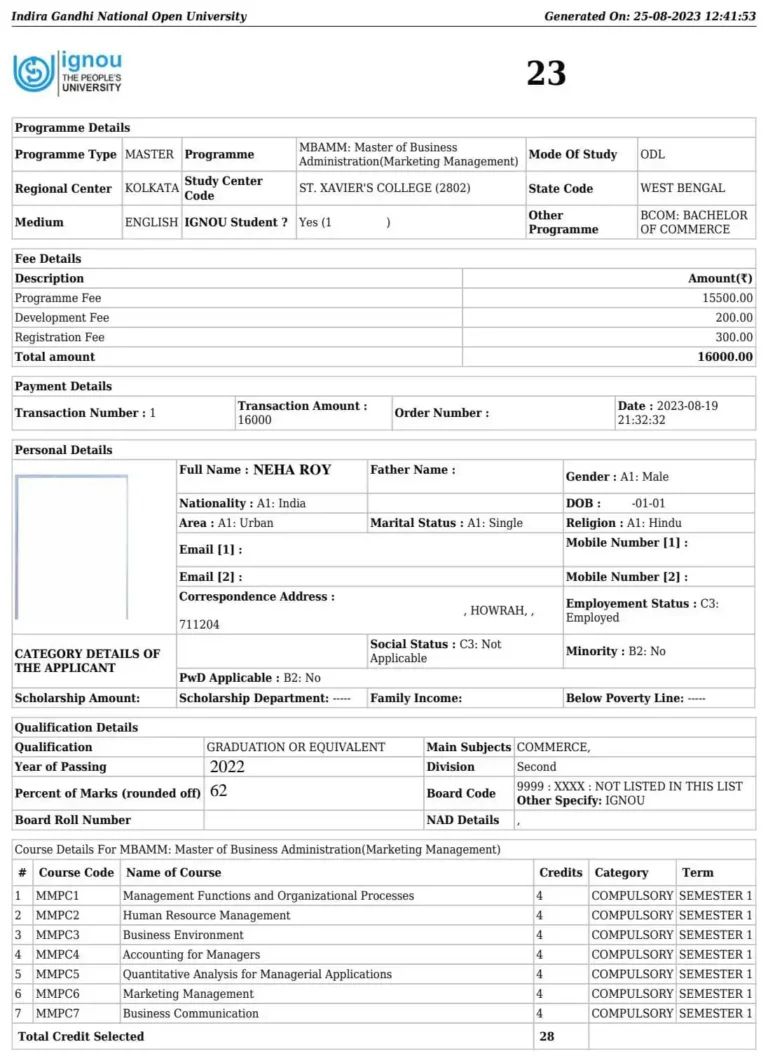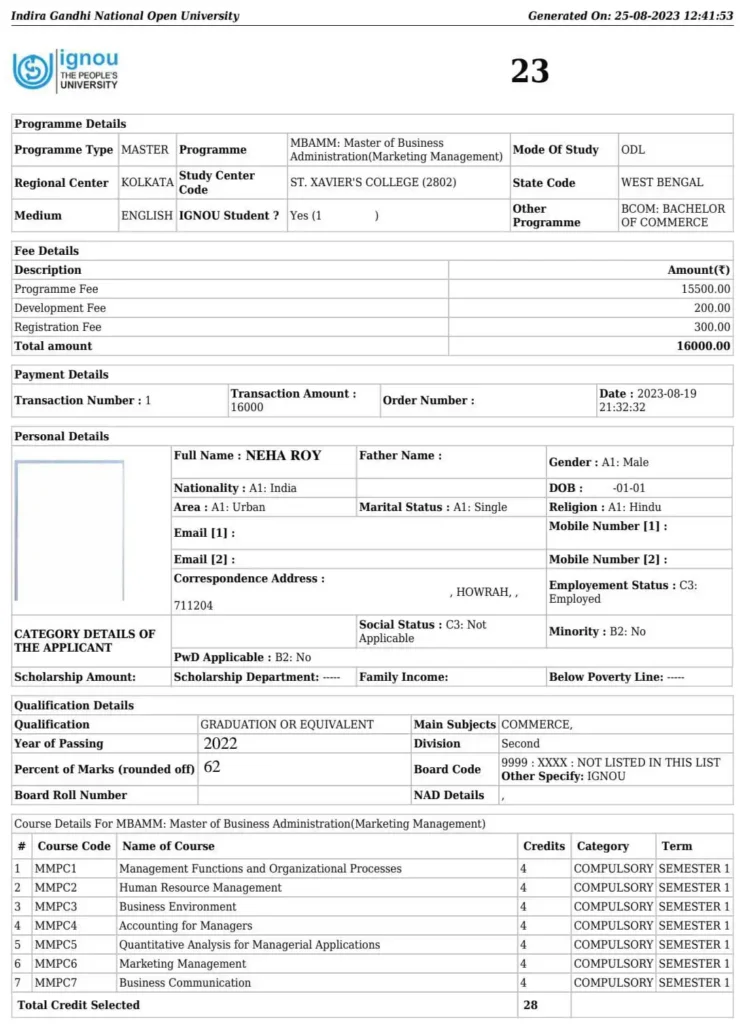 Indira Gandhi National Open University is now taking applications for online admission. It's offers excellent skills in management, communication, leadership, and more.
If you are searching for how to get admission in IGNOU for MBA course, follow the below steps to sign up:
Username
Applicant Name
Email ID
Password
Mobile Number
Captcha code.
Once the applicant has registered, they can proceed with the admissions process.
To fill out the request form for IGNOU MBA Admission 2023, students had to follow the steps below.
First, fill out the application from the official page.
Upload all scanned papers.
Select the study centre where you want to take the classes.
Click on the application form and send it in
Get a copy of the application form by downloading it After the confirmation, you will get an ID card.
Documents Required
JPG format photos should not be larger than 100 KB for passport size.
The scanned copy of the signature shouldn't be over 100 KB in JPG format.
Each of your previous academic records shouldn't be over 100 KB-JPG.
IGNOU MBA courses list with fee structure
IGNOU MBA fees are Rs 15550 per semester
Registration Costs: 300 Rs
Term-end exam fee: 200 Rs
Note: The above fees are subject to change, and we advise students to check the official website for the latest fee structure.
University provides Master of Business Administration with various specializations.
MBA in HR
The program in human resource management is ideal for those pursuing careers in HR management, including roles like HR generalist, specialist, business partner, talent management specialist, organizational development specialist, and more.
Finance
The IGNOU MBA Financial Management is best for those who want careers in finance, accounting, banking, and other related fields.
Program is designed with the skills and knowledge needed to pursue various roles, such as financial analyst, investment banker, portfolio manager, financial planner, and more.
Marketing
Marketing Management is best for those who want to make careers in various fields, such as marketing manager, product manager, brand manager, marketing research analyst, digital marketing specialist, and more.
Operations management
The IGNOU MBA distance learning (Operations Management) program is best for those who want to make careers in operations management, such as operations manager, production manager, supply chain, project manager, logistics, and more.
IGNOU MBA syllabus 2023-24
We have mentioned the semester wise syllabus list you can check the below.
| | |
| --- | --- |
| 1st semester | 2nd semester |
| Management Functions and Organizational Processes | Information Systems for Managers |
| Human Resource Management | Management of Machines and Materials |
| Business Environment | Managerial Economics |
| Accounting for Managers | Social Processes and Behavioral Issues |
| Quantitative Analysis for Managerial Applications | Strategic Management |
| Marketing Management | Business Laws |
| Business Communication | Financial Management |
| 3rd SEMESTER | 4th SEMESTER |
| Research Methodology for Management Decisions | Advanced Strategic Management |
| International Business Management | Entrepreneurship |
| Project | Business Ethics and CSR |
| Select Four subjects from any specialization | Three subjects from any specialization |
Specialization subject list for 3rd Semester
IGNOU MBA HR syllabus
| | |
| --- | --- |
| Specialization Subjects | Specialization Subjects |
| Organizational Theory and Design | Human Resource Planning |
| Human Resource Development | Organizational Development and Change |
| Industrial and Employment Relations | Organizational Dynamics |
| Compensation and Reward Management | International Human Resource Management |
IGNOU MBA finance syllabus
| | |
| --- | --- |
| Specialisation Subjects | Specialisation Subjects |
| Working Capital Management | Security Analysis and Portfolio Management |
| Capital Investment and Financing Decisions | International Financial Management |
| Management Control Systems | Equity Markets |
| Management of Financial Services | Management of Insurance Services |
IGNOU MBA Marketing Management syllabus
| | |
| --- | --- |
| Specialisation Subjects | Specialisation Subjects |
| Consumer Behaviour | International Marketing |
| Sales Management | Marketing Research |
| Product and Brand Management | Integrated Marketing communication |
| Marketing of Services | Retail Management |
IGNOU MBA Operations Management syllabus
| | |
| --- | --- |
| Specialisation Subjects | Specialisation Subjects |
| Operations Research | Operations Management |
| Project Management | Management Information Systems |
| Logistics and Supply Chain Management | Maintenance Management |
| Material Management | International Logistics and Supply Chain Management |
IGNOU MBA prospectus 2023 July
To access the prospectus, you can follow these steps:
Visit the official website.
Click on Common Prospectus
Navigate to the Management department.
Click on the link to access the documents in PDF format.
Open the document and review the relevant information about the management program, including the syllabus, eligibility criteria, and other details.
Entrance exam 2023
The National Testing Agency conduct the test (NTA). Compared to other exams, like the CAT, the OPENMAT is a simple test.
No entrance exam is required for doing MBA in IGNOU university 2023.
Study Materials
University offers MBA study materials that students can download or print out. Students get a 15% discount if they select soft copies of their books. University sends printed materials to the registered address.
The Material Distribution and Production Division is in charge of this. If candidates choose digital books after taking IGNOU MBA admission online, they can find everything they need to study on the EGYANKOSH webpage.
You can also access the books by downloading the E-Content app from the Google Play Store.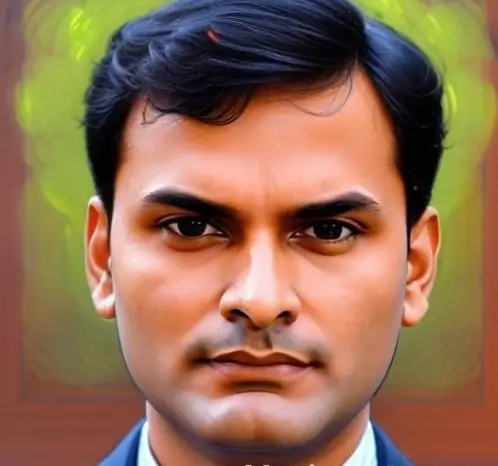 I'm Niraj Bari. I've been helping IGNOU students for over 13 years. I have completed my course from IGNOU University and faced so many challenges, and that's why I started this website—to help students who are having a tough time with distance education.