IGNOU courses 2023 online course details
IGNOU courses: The parliament of India officially approved Indira Gandhi National Open University, and it's the best choice for open university admission.
Before sharing the IGNOU courses list, let me explain courses offered by Indira Gandhi National Open University are student-friendly and easier to apply to all learners.
We have an excellent list of course details for distance education courses to help everyone.
Their course fees are very low, and you have an option you can pay session-wise.
The IGNOU course is the premier degree-awarding body for university courses and other academic programs in India.
It offers over 100+ courses at the correspondence level, including undergraduate and Master's degrees. To enroll in a course offered by IGNOU, candidates must apply online by visiting their official website.
Once enrolled in a course, they will receive notification regarding their course about admission confirmation, enrollment number, and exams, which may be scheduled in June and December.
A bachelor's program takes a minimum of three years to complete.
IGNOU Courses 2023:
Our country has many distance academies through which students achieve their Bachelor's and Master's certificate every year.
IGNOU Open education is the most famous University in Asia.
In India, over 200 regular universities are present, and over 20 distance university students are admitted every year to achieve a bachelor's / master's course.
Everybody experiences the fact that IGNOU Open University courses are one of the great Universities among the distance universities.
Course offered by IGNOU distance education
There are many courses available at IGNOU university; where other open universities struggle to engage students, their regional office is one of the best student management service centers.
IGNOU's bachelor's degree course duration is three years, and the Master's degree course duration is 2.
If we compare IGNOU University with other distance universities, we realize IGNOU differs from other distance universities. University offers a fee relaxation to the SC/ST candidate.
Courses offered by IGNOU after 12th
After achieving higher secondary, you are eligible for various courses in IGNOU.
If you want only a graduation degree after completing 12 courses, the BAG (Bachelor of Arts) is a top-rated course. Lots of subject variety available.
(1) Hindi
(2) English
(2) History
(4) Sociology
(5) Political science
(6) Psychology
(7) Public Administration
The BCA or MCA course will be best if you want to complete IGNOU computer courses through distance education.
IGNOU courses list after graduation
After achieving the bachelor's certificate, you can apply for the pg course.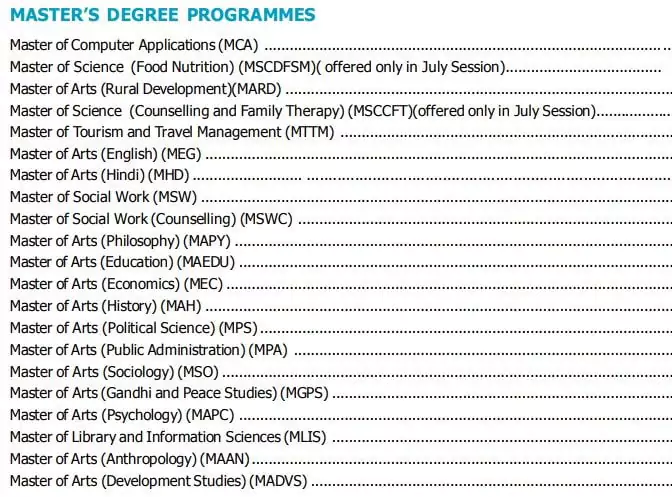 List of popular IGNOU diploma courses
Check the list of top 5 university courses.
1. (PGDDM)
2. (PGDRD)
3. Post-Graduate Diploma in Translation (PGDT)
4. (PGDIBO)
5. (PGDCA)
IGNOU Certificate courses online list:
IGNOU certificate course is for the short term. The certificate course in IGNOU is a minimum of 6 months.
If you want to apply for a certificate course, you can visit the official site. Various courses are available here.
Recently, the university introduced online courses in the IOP portal so that students can submit TMA online.
Always remember that whenever you are applying for a certificate course, check whether the course is available in your selected study center or not.
Else they will move your course to other study centres.
IGNOU online courses:
IGNOU University has contributed to offline and online courses. We can study online as well. Certificate in Russian language courses in IGNOU is very popular.
But the only disadvantage of study is you will not get any hard copies of books.
What are the popular IGNOU courses?
Every year, over 2 lakh students are admitted to IGNOU, but a higher number of candidates join the BAG course.
The university has started a new BAG, BCOMG and BSCG course under the Choice Based Credit System. IGNOU follows the credit scheme for providing all its programs.
One credit is equivalent to thirty hours of candidate learning time. To earn Bachelor's Degree, a student has to complete 132 credits in a minimum of 6 semesters with the help of 22 credits per semester.
The subject combination is more available in BA courses than in B.com courses. BA course is known as BAG course. The course is the same. Only new subjects are implemented, and the yearly course becomes semester-wise.
This is an excellent opportunity if you also want to update your qualification from an open university.
You can also complete the IGNOU Distance degree Part-Time.
IGNOU courses list for bachelor degree:
Each course of IGNOU has a different fee structure.
BAG
BCOMG
BSCG
BSW
BTS
BCA