IGRAM IGNOU portal is a great way to raise complaint. You can submit grievance through this platform, or you can ask any question related to university.
This step-by-step details guide will help you through how submit complain in grievance portal without going study center or regional centre.
As a distance learner, I had faced many challenges in my graduation course, that time we don't have IGRAM IGNOU, every time we depend on regional office, but now the system has been changed.
What is IGRAM IGNOU?
IGRAM IGNOU stands for IGNOU Grievance Redressal and Management. It is a complaint / grievance portal where students raise a question without paying any fee, and the official department resolves it.
Typically, learners can register complaints related to the exam, assignment, result, or any other issues. Student can also track the status of their request and receive updates on their resolution.
Most of the university have an online portal are free to use, so you don't have to worry about resolution.
The grievances Portal is a convenient way for learners to raise their concerns and query related to the university.
It helps to ensuring that the program is meeting the needs and expectations of learners and provides a support for addressing any issues that arise. It is also similar to the IGNOU help desk.
How IGRAM IGNOU portal works
IGRAM IGNOU control by official management, where we may address any difficulties or grievances students may have while pursuing their education.
Official management is doing great to deal with your problems. If you face any difficulty while studying, you must try the IGRAM portal and inform them of your situation.
We should use this feature to submit question and complaints.
Within the shortest time possible, those with questions or complaints will get an update on the dashboard, telling them what was done and how they were resolved.
Here's how we can request:
How to complaint in IGNOU university using IGRAM
Have you ever thought it would be enough to complain at the regional center?
Can I go to the RC regularly? I don't believe that.
Let's start the process of IGRAM IGNOU for your query. You can repeat the same process for any category, too.
Open the official website, click on student grievances under the student support menu.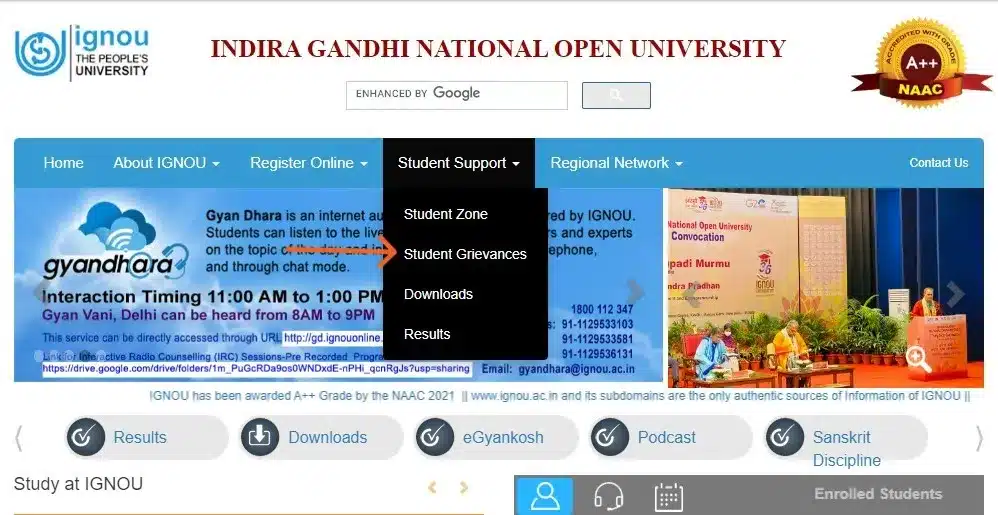 Choose a category of complaints

Choose the "Subject" option.
Click next and fill in the basics details.
Write your IGNOU complaint or query on box.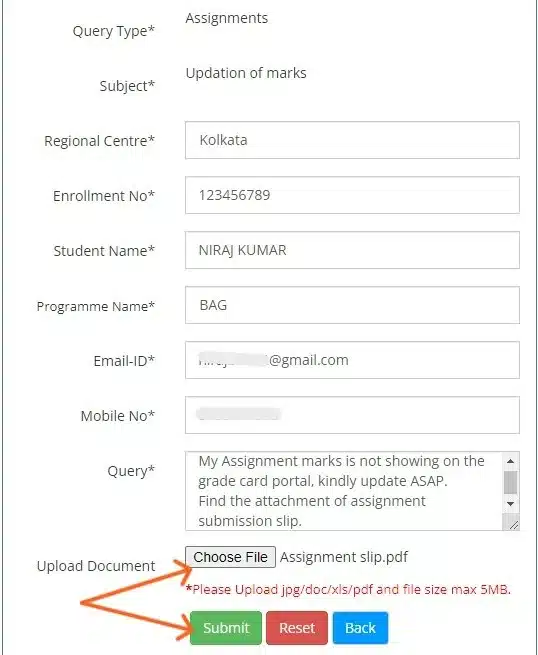 Upload documents (If applicable)
Click on "Submit"
How to track IGNOU grievance status
Do you want to know how to check IGNOU grievance status?
Go to the IGRAM portal.
Click on track grievance response status.
Type the GST token no in the space provided.
Get status by clicking the button.
Note: Sometimes it takes longer than usual, so you need to wait while tracking complain status.
Types of IGNOU student grievance category
Here we have mentioned some of the most popular IGNOU grievance portal query with example.
Fresh Admission:
You may enquire about the eligibility, fees, duration, and admissions status (if your application has not been verified).
Question-Why my admission status is not confirmed?
Study materials
Study materials are one of the major problems every student has to deal with. You are not alone if you have not received the books.
Check the following category: you may raise complain.
Not received
Wrong medium
Incomplete set of Books
Wrong material received
E-study material link.
Question- my admission has been confirmed, but I didn't receive my study material, kindly provide me the status of my books.
Assignment
Most of the time, student face problem related to their assignment marks not updated.
You can go to the IGRAM IGNOU portal and submit your grievance, and upload the assignment acknowledgment slip.
Submission
Question paper
Status update
Last date of assignment submission
Marksheet & provisional certificate
Last year I have seen most of the students were complaining about the original result.
Check the details below.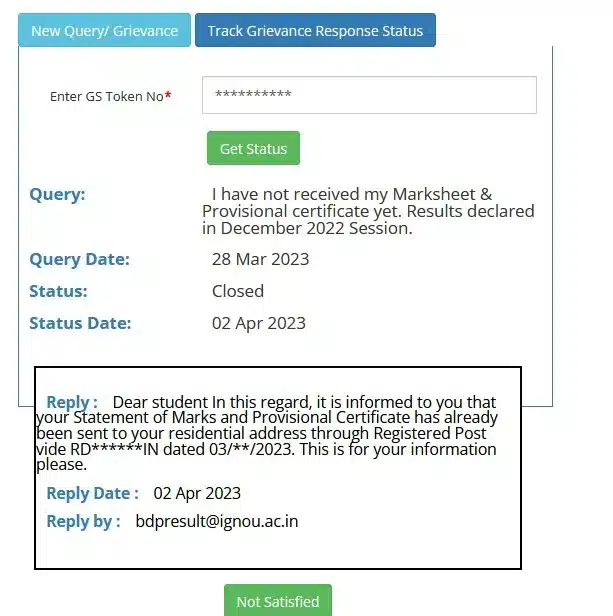 I have not received my Marksheet & provisional certificate yet, my result declared in the December 2022 session.
Re-evaluation:
If your result is not declared within the time, you can raise your complain
Here's an example of a complaint. It will help the student who wants re-evaluation result.
I requested a re-evaluation for the TEE exam in December 2022; however, the result of Begla135 is not yet available.
Which platforms to use for IGNOU complaint?
There are several platforms to raise your grievance through online and offline. Some of them are listed below:
IGRAM
We have already mentioned above about the IGRAM, but what to do if there's no response?
Follow the next steps.
RTI
RTI stands for right to information where you can get a genuine response within 30 days. I will recommend you, if you are waiting for long time.
Email
ssc@ignou.ac.in
IGNOU helpline number
Have you ever called toll-free number before enrolling?
When calling the customer care number in Delhi, the phone rings, but no one answers. I know this happen sometime.
Undoubtedly, universities do their best to help students at every stage.
You can call on the following number- 011-29571301 & 29571528
My experience with IGNOU IGRAM
Today I will share my recent experience. I got a call from a student.
He completed the BA course and has been waiting for the past six months for his marksheet. He visited the regional center to get a grade card, didn't get it.
In the end, he used the IGNOU IGRAM as I instructed him.
After four days, the official department sent an email asking him to send your correspondence address to their email.
He followed the instructions, and he got his report card within 20-25 days.
Conclusion
What will you do if you don't get original copies of your certificates, whether Marksheet, Provisional certificate, or degree certificates?
You will contact the helpline number of regional centre?
But it's not enough
You can file an IGRAM IGNOU grievance. These complaints are taken seriously by the headquarters or regional center, and they are resolved as soon as possible.
If you need any help, you can ask me in the below comment box.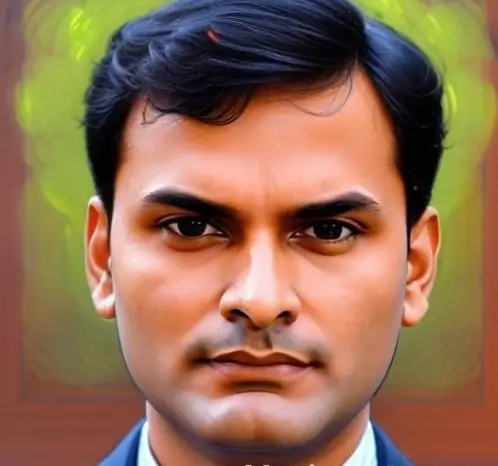 I'm Niraj Bari. I've been helping IGNOU students for over 13 years. I have completed my course from IGNOU University and faced so many challenges, and that's why I started this website—to help students who are having a tough time with distance education.